Bizwaremagic.com Is Celebrating Black Friday!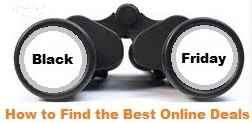 While Cyber Monday is supposed to be the big online
day for shopping, in my experience Black Friday is a
much bigger day, both for traffic and sales. Actually,
for online shopping the lines are no longer closely drawn -
the whole week is turning into one big sale.
Like it or hate it - Black Friday has come to mean
hectic shoppers, busy malls and bargain basement deals.
Unless...
You shop online.
Then it is simply a matter of finding or searching out
the best deals and the best retailers. Online shopping
doesn't come without a few drawbacks but the advantages
far outweigh the minuses. No line ups, no pushy shoppers,
no crying kids, no long commutes... shop from the comfort
of your home.
Anyway, Bizwaremagic.com never started out to be a "deals"
or "coupons" site, but it just grew out the Laptop Buyer's Guide
and the Corporate Business Gifts Guide... naturally to keep
on top of all the latest products, you have to become an
affiliate - then you're on the front lines.
This year, the Black Friday Deals seem to be bigger and
better, but it always seems to be that way. We have listed
some great deals on Dell, HP, Alienware and even Gemorie!
You can find many of the links from our home page here:
www.bizwaremagic.com
Labels: alienware coupons, bizwaremagic, black friday, black friday deals, black Friday sales, dell black friday deals, hp coupons, hp deals